Enquiry form
Thanks for getting in touch with Grow. Gather Graze. We work in a range of ways, as below. Have a read and please provide us with a little more information about your project by filling in the short form so that we can get the ball rolling.
Consultation
This can be done as a one off session to give you some inspiration, direction, or to simply bounce ideas around about a smaller project (such as helping you to create a seasonal planting calendar based on what you like to eat.)
This time can also be used to form a brief as part of a larger project.
These sessions are done on site at a rate of $160 per hour, minimum 1 hour. Additional time and costs may apply for large blocks, in depth projects or travel outside of  the Sydney area.

Design
This is what we love to do most! The satisfaction that comes from creating a tailored, site specific design that also makes a space more productive and functional, is a wonderful thing.

In order for us to understand your needs, and put together a brief, we start this process with an onsite visit at a consultation rate as above.

Once we have agreed upon the elements of the design, and gained an understanding of how you use the space, the time you are able to commit to the finished product and how you like to eat, we will produce a set of zoned and annotated maps detailing our recommendations.

These include:
– A base map of your existing space.
– Zoned map using the 6 permaculture principles which are based upon time spent, usage and specific practicalities.
– Individual breakdowns for each of these zones are also provided in annotated map form.
All of these details are then accompanied by a comprehensive document which provides product recommendations, plant lists, suppliers, specifications, inspiration images and more.

The detail provided in your final document is so comprehensive that you could choose to take this information and implement the design as you choose, at your own pace, if you wanted to. We don't try and up sell anything further, we just believe that planning is money well spent.

As the scale, detail and needs of every client are different, we provide custom quotes for this process based on your brief.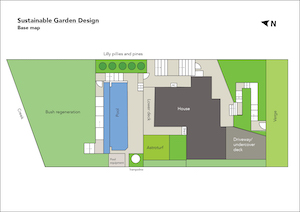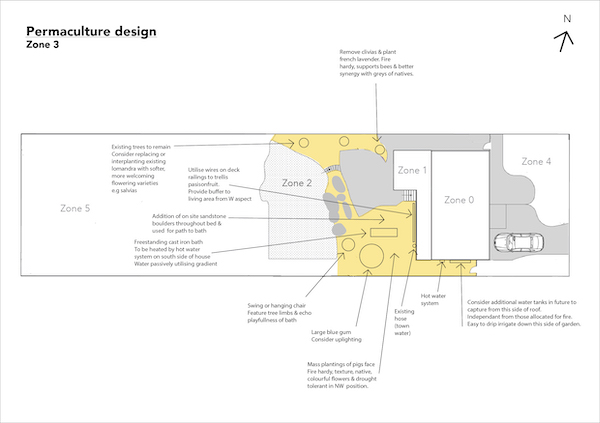 Implementation
Having the opportunity to make our designs a reality is a real privilege. We prefer to stage this work so that it is project based, allowing us, and you, to focus on specific aspects in order to understand how they will inform and become a part of the whole design. We find that it is in this way that you learn more about the space and make better long term decisions.
For this stage we can work with you in a variety of ways. If you would like to get your hands dirty, save some money and be involved in the process we would encourage you to work alongside us.

If you'd prefer to get some help with the heavy lifting and just manage the finished product that is something we can help you with too. We will either do the work for you or recommend one of our skilled contractors.
For the full service we offer project management to make sure every aspect of your design is implemented with precision, as per our design. We can research and recommend appropriate site specific solutions, coordinate contractors, ensure that all materials are delivered on time, and problem solve any unexpected on site surprises.

This is done at a rate of $80 per hour but time can be estimated upfront on a per project basis.

Mentorship
Some of the best time spent learning is within your own garden. This is why we offer mentorship where we can join you for a few hours on site to discuss seasonal tasks, talk about natural pest control, chicken management or any other tasks that you feel you'd like to learn about one on one in your specific environment.

These sessions can be scheduled weekly, monthly or seasonally for as long as you require, and are charged at a rate of $160 per hour for a minimum of 2 hours.
Tell us about your project
See what some of our clients have said about our work.

"Having known Laurie for many years, I had every confidence in her professionalism and in-depth knowledge of permaculture and sustainable design. She had previously provided lots of useful tips and advice around our shared passion for these topics and I had learned much. So it was with some excitement that I contacted her to assist in the design of our garden following our first home purchase.
It was evident almost immediately that Laurie would exceed my high expectations as to what we might achieve together. She immediately set to work, examining all aspects of our garden with an expert eye. She was exceptionally thorough. For example, she submitted a DA on my behalf to local council to ensure a retaining wall had been built correctly by a previous owner. While a commitment to detail was the basis of Laurie's approach, it was soon clear just how creative she would be (a function of her training as a graphic designer).
That rare combination — of functionality, care and imagination — shone through in every aspect of the garden design she produced. To cite one example, she recommended we incorporate a cast-iron outdoor bath for our children under a red gum next to the back deck, with a garden of beautiful pigs face to complete the scene. Laurie explained that pigs face was a fire retardant, so would have the additional benefit of adding a measure of protection to our house in the event of a bushfire. Bath water would run down the natural gradient and be captured in a swale, which would also incorporate a shallow pond to preserve moisture in the garden and provide relief to native animals on hot days.
Laurie's knowledge of permaculture's six zones was remarkable, and every single aspect of her carefully thought through plan was met with surprise and delight. I recommend her without reservation to anyone considering designing the garden of their dreams, in harmony with the natural world."
– Luke
---
"I wholeheartedly recommend Laurie from Grow. Gather. Graze as a consultant for urban edible gardens. I have been practising Permaculture for over a decade but even so, Laurie was able to help me coalesce some rather vague ideas about incorporating chickens into my growing systems into a practical plan. She was able to think outside the parameters I had subconsciously set myself and recognised that, in my townhouse garden (small space; strata neighbours to consider), an alternative animal system (quails!) would probably work better, but with the option of, in the future, stepping up to chicken-keeping. Laurie also helped me out with suggestions of housing systems, both generic and specific; with options of later adding tractor systems to enable the quails to forage on my herb spiral etc and with links to useful poultry fodder/ medicinal plants."
– Lucinda